John Feirabend was one of the first people to introduce me to the concept of Song Tales (picture books or songs that tell a story with music). During his first steps in music training, I learned of his suggestion to end every class with a song tale. Since taking this class with him, I have done this with all my first grade classes with great success.
John has his own line of picture book Song Tales that I adore. I've highlighted some of them on my blog before. What is so neat about them is that he offers an annual contest to illustration/art students at Hartt where he teaches. The winner is published. When you are purchasing his books, you are helping a new illustrator get their start.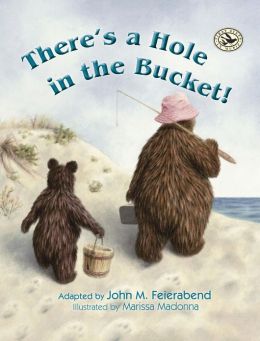 I own EVERY book in this collection. I am very excited about the newest edition, "There's a Hole in my Bucket." The pictures are beautiful and so very elementary appropriate. If you don't already own the Feirabend recordings, you can also download a quality recording of the book online for FREE.
Hope you find this gem to be of great use in your classroom as I do!